The Greater Phoenix area averages 211 clear days and 85 partly cloudy days each year. That's over 300 days of sunshine a year! View the map below to see the monthly temperature highs and lows for Phoenix.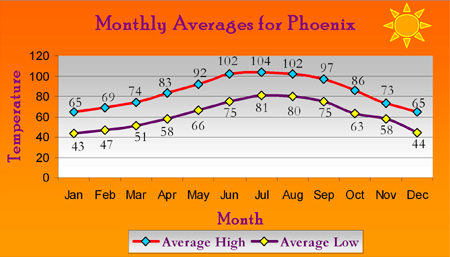 Highest Temperature: 122° set 6/26/1990
Coldest Temperature: 16° set 1/7/1913
Average number of 100° or higher days in Phoenix: 89
Average first occurrence of 100° temperature: May 13
Average last occurrence of 100° temperature: September 28
Monsoons in Arizona
Yes, there is such a thing as a monsoon season in Arizona. The season usually begins in early-to-mid July and as late as August in some years. The beginning of the monsoon season is triggered by three straight days with a 55 degree dew point or higher. Along with the monsoon season comes fierce thunderstorms and typically the heaviest rains of the year. These summer storms occur in late afternoon or early evening and cause flash floods and the most beautiful pastel sunsets after they dissipate.
Arizona Dust Storms
Typically dust storms occur from May through September when high winds brush across dry desert lands. This results in a usually brief, blinding wall of dust that can cause blinding conditions. Dust Storms are especially dangerous when motorist are traveling on major highways and interstates.